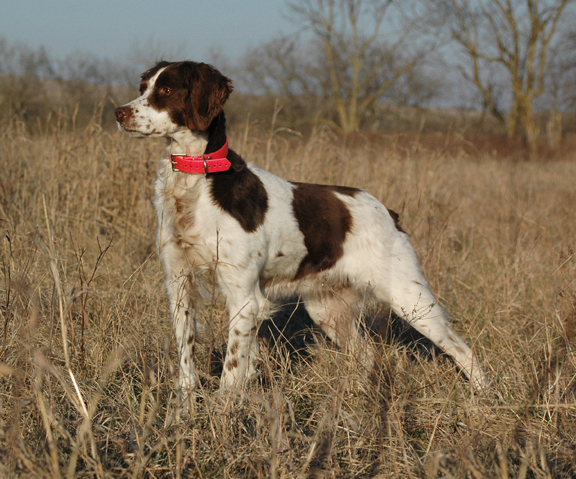 FC/AFC POKI-DOT
Inducted: 2015
Sex: F
DOB: 1994-5-9
AKC: SN15641507
Sire: NFC/FC/AFC Microdot
Dam: Wee Dee
Color: Liver & White
Breeder: David A. Lincoln
Owner: Jim & Meam Floyd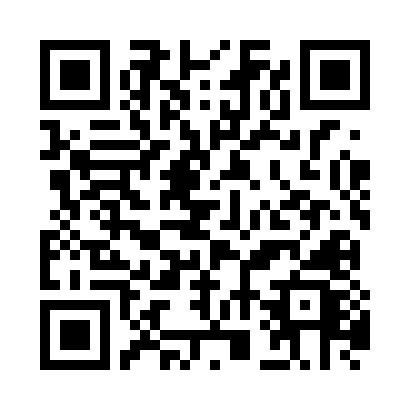 Poki-Dot had a remarkable field trial career. That should come as no surprise because she was a remarkable dog. She was the pick of the litter in a breeding between Wee Dee and NFC Microdot and was a "no nonsense" competitor with heart, drive and exceptional ability.   Because of her extreme desire, she almost always found birds and had the ability to know where they would be. Her memory was incomparable and her ground speed phenomenal.

Poki's illustrious career included 76 Field Placements, of which 36 were firsts, including 32 first place Open All-Age wins. She had 18 1-hour placements on grounds all over the country in addition to her 7 championship and 2 runner-up championship wins. She was the 1996 Central Futurity Winner and Dual Dog, 2000 Iams All Age Brittany Dog of the Year, 1999/2000 Kasco Pointing Dog of the Year, 2003/2004 Royal Canin Pointing Dog of the Year. Poki won the Texas Open Championship 3 times, the ABC Prairie Chicken Classic two times on grounds in Wisconsin and Nebraska, the ABC Pheasant Classic and the prestigious US Open Championship, which required one hour qualifying and one hour finals to become Champion. She was Runner Up Champion in the ABC Quail Championship and the Texas Open Championship.

Poki had an extraordinary career and was remarkable in her ability to pass on superior talent to her get. Bred only 3 times to two different sires, she produced 22 puppies: 18 were field winners and one third became Field Champions or Dual Champions. Her production record is notable because any dog being considered for this Hall of Fame should be able to demonstrate not only that they themselves are great, but they are able to pass on those qualities to their off-spring. Poki has to be considered as one of the all time great Brittany female producers.

Notable First Generation Off-Spring
3x Champion, 3x RU Champion, DC/AFC Tsunami
  Winner: 2009 Mid-America Brittany Ch.
  Winner: 2011 Texas Open Ch.
  Winner: 2011 Nebraska Brittany Ch.
  R-U: 2010 Region 8 AAA Championship RU (Dub Emde)
  R-U: 2011 Kansas Ch.
  R-U: 2010 Texas Open Brittany Ch.
  Winner: 2011 The Show Me Amateur
  2011 US Open Ch. Top Qualifier
  2010-12 1-hr.placements in the Texas Open Ch., ABC Prairie Chicken Classic, Dixieland Ch., International Open All Age Ch.
1x Champion, 5x RU Champion , FC/AFC Wimberley Jimdandy
  Winner: 2010 US Open Brittany Ch.
  R-U: 2009 Texas Open Brittany Ch.
  R-U: 2010 Kansas Ch.
  R-U: 2012 Texas Open Brittany Ch.
  R-U: 2012 Jim Holman Classic.
  R-U: 2013 Mid-America Brittany Ch.
  2011-12 1-hr.placements in the Nebraska Brittany Ch., ABC Quail Classic
FC/AFC Wichita
  R-U 2005 ABC National Amateur All Age Ch., Placement 2000 Central All Age Futurity
FC Boudreaux Poki JJ Johnson
  Winner 2008 Kansas Brittany Ch., Placement 2004 Eastern All Age Futurity
FC Megadot
FC Dot Tres
DC/AFC Zippity-Do-Dot
Tucalota's Running Reva

Notable Second Generation Off-Spring
NAFC/FC Wimberley Rowdy Bo Dandy
  Winner 2013 ABC National Amateur Ch.
  1st Place 2011 Central AA Futurity
FC/AFC Dakota Luke
  R-U 2010 ABC Prairie Chicken Classic
AFC Dogwood's Rowdy
  2010 Victoire Nationale
FC Terra Dot
FC Shane's Zippity Zoe
FC/AFC Sniksoh Sweet Hershey Kiss

Poki's on-going influence can be seen in the National Amateur All Age Championship and Futurities, where Wimberley Jim Dandy's offspring won first and second in the 2011 Central AA Futurity. A Zippity Do-Dot son won the 2010 Victoire Nationale one hour Derby Championship and most recently two of Zippity Do-Dot's get were first and second in the Western AA Futurity.