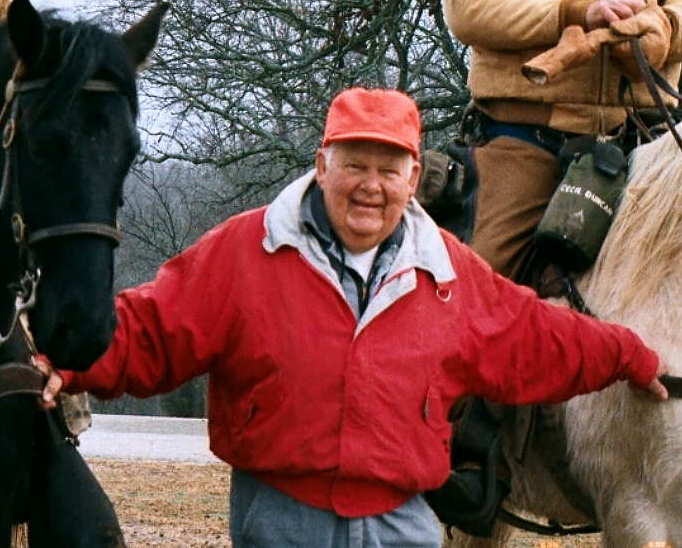 J. W. "Dub" Emde Jr.
Inducted: 2005
A field trialer meets few people in his lifetime who have a devotion for the sport and bird dogs equaling that of J. W. "Dub" Emde.

Over a span of 44 years, Dub's avocation has been the Lake Murray trial grounds and assisting the various clubs and participants who use them. During the past years, he spent countless hours coordinating the management and care of the grounds, facilities and bird population. There was never a question of "where are we going to find the money?" – he always found the money. His presence was felt everywhere. Dub filled bird feeders, mowed with a tractor, insured repairs at the camp were made and had any need taken care of by tomorrow's dawn. As the liaison between Lake Murray personnel and field trialers, Dub helped the American Brittany Club obtain use of the grounds for their national championships and assisted Nolan Cathey at the nationals there for many years.

He chartered the first Brittany club in southern Oklahoma and served as president for 38 years. Besides judging over 150 field trials including the Irish Setter Nationals in 1983, he was an official gunner for the Weimaraner Nationals for 8 years. Trialers always found Dub at the grounds helping any breed put on a trial and usually pulling the dog wagon. During his lifetime he has come to the aid of almost everyone who attended Ardmore trials regularly–truck repairs, trailer flat tires on the side of the road, malfunctioning shower head–Dub took care of getting it fixed. He is the Good Samaritan, with Tommy always there to support him.

Dub was awarded the 1973 Sportsman of the Year by Oklahoma Field Trial Clubs of America and has been recognized by the Pointer, GSP and Weimaraner trialers for his stewardship of the Lake Murray grounds and all of their events. He is a lifetime member of the American Brittany Club, served as an ABC director in the 70's and is a director of the U.S. Open Brittany Championship.

Dub's pride in the Lake Murray grounds, love of bird dogs and unselfishness in serving his fellow man has set an example for oldtimers and newcomers alike. He touched the lives and hearts of every bird dog lover and trailer and made our memories special. God speed, Mr. Emde, you are truly a king among pretenders.

Your friends and fellow field trialers welcome you into the Brittany Field Trial Hall of Fame.