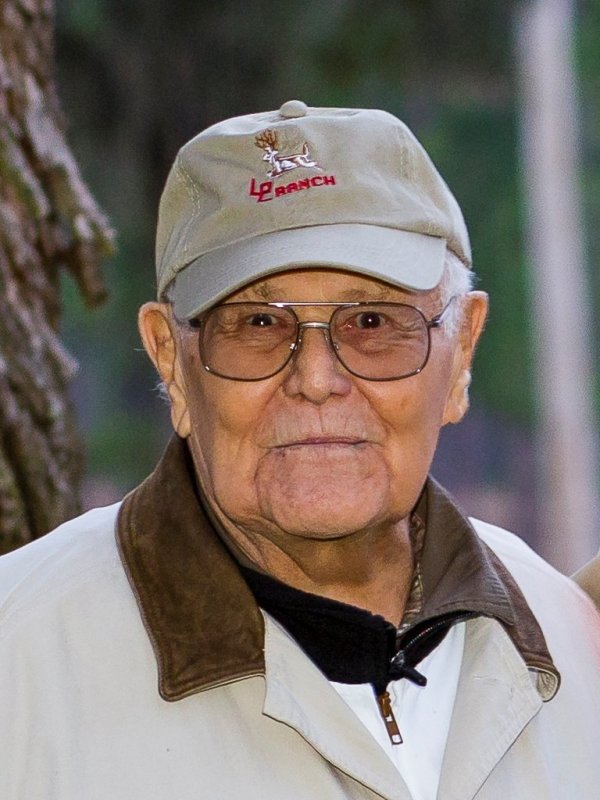 Jim Leverich
Inducted: 2016
Jim Leverich grew up 93 years ago in Wisconsin and as a young boy he developed his love for hunting with his neighbor and his small pack of foxhounds and beagles. Hunting was not Jim's only interest. He learned to fly airplanes early in life and joined the military at age 19. He became an Air Force flight instructor in Texas and enjoyed many perks one of which was hunting quail on the Swenson Ranch. Jim quickly became a fan of hunting over good bird dogs, all kinds, but especially Brittanys.

After D-Day and 2 years overseas with the Air Force, Jim and his wife Sara settled in Pampa, Texas, where he bought his first bird dog, a Pointer. While on a trip back to Wisconsin, Jim saw a sign for Brittany pups and he bought his first Brittany. He trained the dog himself and tried some field trials but Jim knew she would never be very competitive. He found Gerald Price in Kansas who had a nice young bitch out of some very good breeding but would only sell her if Jim promised to run her in field trials. That Brittany turned out to be Jim's Hall of Famer Way Kan Jill !

Jim wanted the best for Jill so he sent her off with Oklahoma pro trainer Harve Butler as a derby dog but Harve soon changed to campaigning Pointers so Delmar Smith carried on Jill's training. This was a great benefit to both Jill and Jim. Jim traveled the circuit and saw some of the best dogs in the country. He also met some great people with whom he banded to become one of the founding fathers of the United States Open Brittany Championship.

There weren't many Brittany trials in the southern Midwest Region in the early 60's so after the U.S. Open got off the ground, Jim got the Top O' Texas Brittany Club started. He served as President with his wife Sara as field trial secretary for almost 20 years. They secured beautiful grounds south of Pampa with 6 continuous hours of course and helped make improvements to the grounds In return for running trials. At that time, these were premier grounds and people traveled great distances to run there.

Jim just loved to watch bird dogs run and find birds. Seeing what these amazing dogs could do was why he trialed and hunted his Brittanys. He became an expert amateur handler not only for his own dogs but he also ran dogs for other friends in amateur stakes when they could not attend trials. He finished one AFC for a friend.

Jim judged many regional trials and championships for all breeds, both AKC and American Field. Judging this many trials helped him to have the eye for being a great breeder. Jim felt it was very important to run good bitches and breed them to the best dogs. He carefully selected the best field dogs to breed to Jill, the ones he often judged. In the early days Jill held the record for producing the most field winners while she herself was a top competitor!

A secret kept quiet for over 40 years, at Jim's request, was his sponsorship of the Texas Open Brittany Championship Rotating Trophy around 1971. It was not a cheap venture and that is why it is called "The Way Kan Jill Memorial Trophy". No matter when or where a contribution was needed, Jim was there.

As Jim's business grew, he found less time to devote to field trials but still wanted to give back to the sport. He secured steel pipe at a bargain and donated money to help put up corrals at the Lake Murray Field Trial grounds in Ardmore, Oklahoma. Jim also drew up the plans to build the corrals that are still there today.

Jim Leverich was one of the pioneers of the Southwest in Brittany field trial history. He excelled in every facet of his life always giving 200% of his energy to every venture.  A humble man, he avoided fanfare for accomplishments in his personal life and for his contributions to field trialing. Rheta and Bill Cartmell commented, "We are much like John Webb in that we wonder how Jim was overlooked in the first series of nominations and elections. He has always been a hard working, moving force in the world for field trialing and bird dog activities."

All field trialers and the Brittany breed are thankful for the contributions Jim Leverich made during his lifetime and we now honor him as a member of our Hall of Fame.