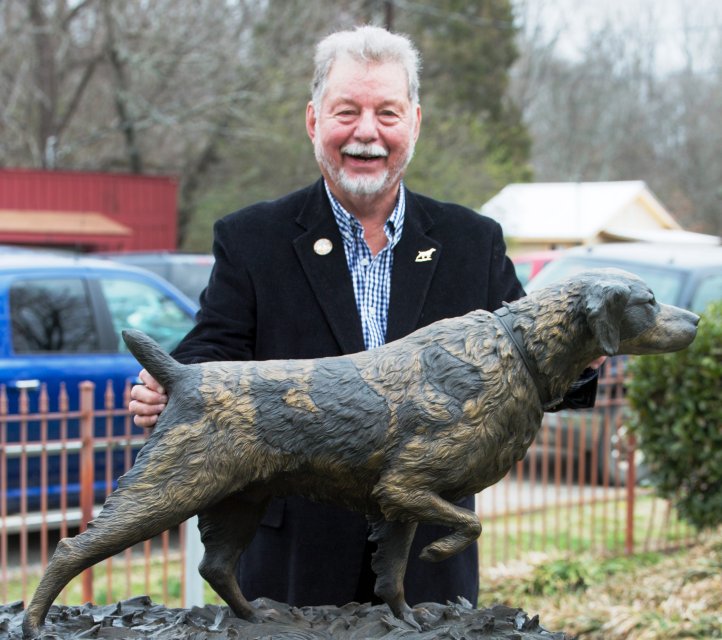 Ken Jacobson
Inducted: 2021
Ken Jacobson has been a doer and a giver his entire life.   He has excelled in his pursuits and supported  the Brittany breed since 1965 as a Brittany owner, breeder, trainer, show hander, field trial handler, club official, field trial judge, field trial reporter, and author – over 50 years - always promoting the Dual Brittany. His love, passion and commitment to Brittanys has spanned three quarters of his life. 
Ken purchased his first Brittany in 1964 as a hunting dog.  He and his wife Erin joined the Washington Brittany Club and Ken, being a competitive sort, decided to get into field trialing to keep his dogs in shape for the hunting season. They supported the club as a team. Erin did all the paperwork and was active in various local and national committees including serving as the first editor of the ABC National Yearbook in 1975.
In 1966 Ken bought a pair of pups from Dr. Ralph Bolton in Kentucky, Pacolet Cheyenne Sam and Pacolet Sam Dingo, and began running them in puppy & derby stakes in 1967. Both pups placed in trials in the northwest with Ken handling them. In the spring of 1968 Dingo won 4th in the ABC National Futurity under the whistle of Delmar Smith.
Like most competitive Brittany owners, Ken gave Sam the opportunity to excel – Ken on the lead in specialty shows and Rick Smith as handler in the field.
            1969 Best of Breed, Washington BC's first specialty show
1970 Best of Breed American Brittany Club National Specialty
            1970 U.S. Open Champion Brittany Championship
1971 ABC National Open Brittany Champion
1971 Sam, became the only dog of any breed to ever win a breed's National Field and Bench titles
            1973 International Endurance (3 Hour heats) Open Shooting Dog Champion
1973 Sam, the only dog other than a Pointer/Setter to win a 3-hour championship in field trial history
1973 ABC Pheasant Classic
1980 Pacolet Cheyenne Sam elected to the American Brittany Club Hall of Fame
            1992 Pacolet Cheyenne Sam is elected to the Brittany Field Trial Hall of Fame
Sam was a special dog, but he was great because of Ken's enthusiasm and dedication to not only his Brittanys, but to the breed in general. Over the years, Ken supported the ABC, clubs and field trials:
•   Judged over 100 field trials including:
ABC National Open Brittany Championship
United States Open Brittany Championship
German Shorthair National Open Championship
German Wire-hair National Open Championship
Pacific Coast Shooting Dog Championship
ABC Pheasant & Chukar Classics
•   Reported multiple National Championships & Classics
•   President and Secretary of the Washington Brittany Club for many years
•   Vice President of the Whid-Isle Brittany Club.
•   Organized the first ABC Chukar Classic as Chairman.
•   Served as 1st  Vice President of the American Brittany Club, in charge of running the National Field             Championship Trials. 
•   Chairman of multiple ABC Pheasant Classics
•   Lobbied to remove "Spaniel" from our American Kennel Club breed name.
•   Elected to the American Brittany Club Hall of Fame in 2015
Ken has always believed in giving back and examples of his outdoor related involvement throughout the past 50+ years:
•   President, Seattle Ducks Unlimited-Created "Super Duck" &" Coors One-of-One" Shotgun
            Programs
•   Executive Director, Oregon Hunters Association
•   Executive Director, Citizen's Committee for the Right to Keep & Bear Arms-600,000 Member
            Organization
•   Donates cartoons from his 1,111 Aphorisms book CRAB BAIT & HAIRBALL to the ABC magazine
•   Co-author with Rick Smith to create the "SAM" book, a pictorial of Sam's history
•   Wrote and illustrated the book, "Politically Correct Hunting"
Ken's dedication didn't stop there!  Using his phenomenal artistic skills, he created, commissioned and donated the following to the Brittany Field Trial Hall of Fame, National Bird Dog Museum, in Grand Junction, TN:
•   Limited -Edition Prints of Brittany Greats as a fundraiser.
•   Life-size Brittany Bronze Sculpture of Sam, "The SAM Project", installed in the gardens of the
            National Bird Dog Museum. 55 patrons helped with major funding by purchasing small "Sam"
            bronzes mounted on walnut bases. The program included gold "Sam" pins, BFTHF pins and
            the "Sam" photo book.
•   Flushing Quail Bronze Sculpture, "Records Live", mounted on walnut, of Pacolet Cheyenne Sam,
            Jacolet's Wandering Star and Tigar's Jocko, on an antique myrtle wood table. Sam pointing
            with his daughter Jacolet's Wandering Star and Stars grandfather Tigar's Jocko backing.
•   Donated Tigar's Jocko 1964 California Pheasant Shooting Dog Championship Trophy that was
            re-purposed as the Pacific Coast Shooting Dog Derby Championship Trophy with a
            participant signed carrying box Ken built.  Jocko's win was the first major championship for a
            Brittany in competition against pointers and setters. 
A "Dual Enthusiast" …Ken developed, trained, groomed, showed and hunted all of his Brittanys:
•   HOF National Champion Pacolet Cheyenne Sam – American & Canadian Dual Champion
•   Fld. Ch. Pizzaz (Sold to Al Langen)
•   HOF 10 X Open Brittany Champion Jacolet's Wandering Star (Sold to Paul Hinch)
•   Dual Champion Jacolet Pride – American & Canadian Dual Champion
•   Champion Jacolet Cheyenne Sioux – Group 1st Winner,BOS National Specialty
Ken believes that the greatest achievement of the American Brittany Club is "Keeping the Brittany a Brittany".  Jocko was Dual #59, Sam was Dual #87 and Pride was Dual #141.   With 682 Dual Champions to date, the Brittany has more duals than all other AKC sporting breeds combined.
Now, 50+ years later, Ken is still dreaming up special projects and funding ideas for the Brittany Club with his 14-year-old best friend "Gink" (Jacolet Ginkgo), out of Nolan's Last Bullet. He is looking forward to hunting this fall... His fifty-fifth-year hunting Brittanys.