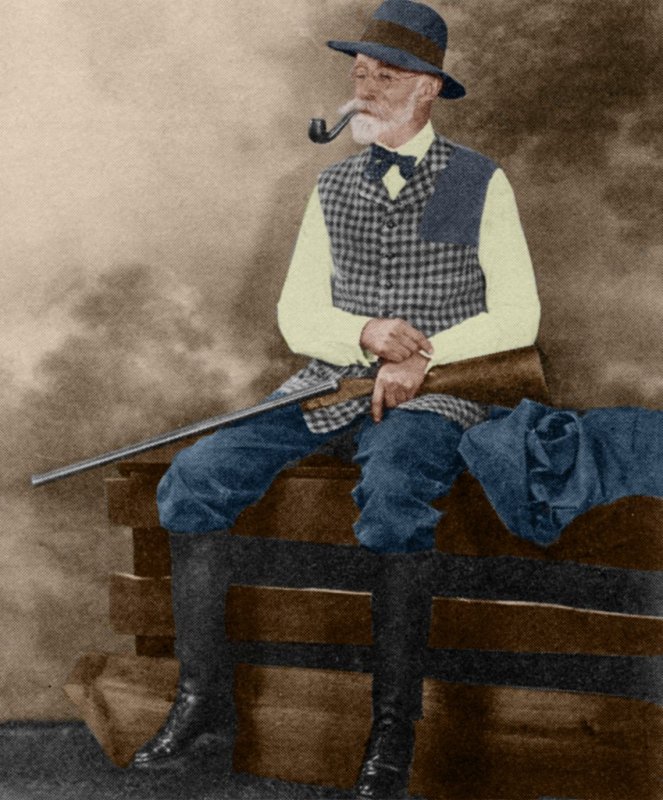 Louis Andre Thebaud
(1859 – 1939)
Inducted: 2014
Franche du Cosquerou


Louis Thebaud's favorite hunting dog was the first Brittany to place in an American Field trial. The famous dog portrait photographer Rudolph Tauskey took this picture of Franche at the request of the American Kennel Club to represent the breed in the 1936 Edition of The Complete Dog Book.
Mr. Louis A. Thebaud, sportsman, competitor and philanthropist, was responsible for introducing the Brittany Spaniel into the United States. He was the first importer of the Brittany Spaniel and he used his family fortune to promote the Brittany. He owned the first Brittany Spaniel with a recorded placement in an American field trial and was responsible for the American Kennel Club recognizing the Brittany breed and entering it into their stud book. He was also co-founder of the later known American Brittany Club and played a major role in the breed's rise to prominence in the field and on the show bench. What a legend he was in America! Legends sometimes are hard to pin down and many times tend to obscure facts -- as many historians have discovered.

Born October 24, 1859, in Orange, N. J., Mr. Thebaud grew up on the family 300-acre estate in affluent Morristown, N. J. The Thebaud family was of French nobility and after the Revolutionary War, thanks to American ambition, an import business was started that kept generations of Thebaud's well taken care of. During this time, American gundogs and field trials were becoming popular and wealthy sportsmen were importing great field trial dogs. Mr. Thebaud went almost annually to France where he hunted with Brittanys and admired them. After importing a few Korthals Griffon (later known as the Wirehaired Pointing Griffon) to the United States between 1905-1920, he became more interested in the Brittany and decided to try and establish the breed in this country. Thebaud has been described as being "handsome, charming, and courtly" and "also a great sportsman; hunting, shooting, fishing, and sailing." After retirement, this dedicated sportsman devoted himself to hunting and travel.

In 1912, Mr. Thebaud imported a pair of Brittany Spaniels but nothing further is recorded of these first two dogs.

The Thebaud's and the Joubert family in France, (Rene & Jacques Joubert being distant relatives) had a close personal relationship and a letter written by Jacques Joubert revealed that Mr. Thebaud often went on shooting parties and thought that the Brittany Spaniel would be very efficient for quail hunting, which he did on horseback in Florida.

Around 1930, Mr. Thebaud asked Mr. Joubert to find him five of the finest Brittany Spaniels possible which Mr. Joubert did after attending field trials in France.

In 1931, Mr. Thebaud imported Clap de Calacs (or Clap il Carique) but unfortunately Clap was stolen soon after his arrival in this country.

Not discouraged, in 1933 with the assistance of Mr. Joubert, Mr. Thebaud bought and imported Edir du Mesnil and Genette du Mesnil. Genette was imported, after being bred in France, with her puppies "in utero" to America, was then sent to Canada for whelping and afterward returned to Thebaud, a strange story indeed.

In 1934, Mr. Thebaud and Jacques Joubert traveled to New York with two dogs -- Edir du Mesnil and Genette du Mesnil, their certified French pedigrees and import certificates. After presentation to the Board of Directors, the Brittany Spaniel was formally recognized by the American Kennel Club in August 1934. The AKC standard was approved on March 12, l935 after Miss Clara G. Perry made an acceptable translation of the French "Standard of Perfection" which Mr. Thebaud had received from the French Kennel Club.

In September 1934, Mr. Thebaud imported Fanche du Cosquerou (registered as "Franche"). He arrived in this country with the reputation of being France's finest Brittany and became Mr. Thebaud's favorite hunting dog. He was the first Brittany to place in an American Field trial in 1935 and was considered by those who knew the early dogs to be the best field dog imported in his time. Fanche's photo was used to represent the breed in the AKC's 1936 edition of the Complete Dog Book.

In March 1935, one of the first accounts of a Brittany Spaniel's performance, Fanche du Cosqueron, owned by Mr. Thebaud, appeared in an article titled Brittany Spaniels from The American Field, published March 2, 1935, written by Harry K. Crandall:
"No enumeration of ardent sportsmen in the United States would be complete without mention of Louis A. Thebaud, residing in Morristown, N.J. For lo these many years, tracing farther back than the mind of the average man listeth, Mr. Thebaud has annually enjoyed sports afield, in the wake of high class bird dogs. And these dogs have not been confined to pointers and setters only. It has been an annual habit for Mr. Thebaud to make a trip to France, and these trips have been responsible for him being the sponsor for introducing two breeds of sporting dogs well known in France into this country, a rather unique situation. . . .

Now, after a lapse of a quarter of a century Mr. Thebaud is responsible for the advent in this country of another breed of French bred dogs in the Brittany spaniel, among his importations being Fanche du Cosqueron and Genette du Mesnil, both outstanding representatives and registered in the Field Dog Stud Book. Mr. Thebaud, who had the courage of his convictions, shortly after the importation of these dogs, entered them in the Members' Shooting Dog Stake, at the Jockey Hollow Club's trials held at Freehold, N. J., last November. In the report of the trials, Walter Arnold stated:
One dog that attracted a great deal of attention was a new importation and of a breed entirely new to this reporter a Brittany spaniel, Fanche du Cosqueron, white and mahogany dog, bred by M. Mege of Brittany, France, and brought to America by the well-known international sportsman, Louis A. Thebaud of Morristown, N. J. Mr. Thebaud told us that this breed of spaniel is the only one that points naturally. They are entered in the field trials in France against pointers, setters and Griffons and are said to give good accounts in this competition, where many places are taken by them. Two color combinations only are permitted, white and mahogany and white and orange. Mr. Thebaud had two of these spaniels in this stake, Fanche and Genette du Mesnil. They are of about the same general size as the springer, but of lighter build, higher on the leg, racier, with wide skulls, wide-set intelligent eyes and rather a light, almost snipy muzzle, and born, with rare exceptions, with short tails. Fanche was braced with a pointer bitch and the honors in this brace belonged to the Brittany spaniel. Fanche ranged out well, keeping ahead and hunting the cover with diligence and purpose. In the Indian grass field west of the gallery Fanche pointed as he hunted with a high head and seriousness and intensity of manner, despite the fact he had no tail. The bird was located accurately, and killed neatly by M'sieu Hammerman, who was handling. Fanche went into the cover, picked up the bird, brought it out in the open and placed it gingerly in a prominent spot between himself and his handler, as though to say, Now you may take care of it,' and went on hunting. . . .
The future career of this attractive little dog in this country will be watched with considerable interest by many sportsmen."
On April 20, 1935, the first placement by a Brittany Spaniel in an American field trial was reported. From The American Field, published May 4, 1935, Hunterdon County Trial held April 20, 1935, Le Moyne B. Weeks reported the performance of Fanche du Cosquerou's 3rd place in a field of 15 Setters, 8 Pointers and 3 Brittany Spaniels:
. . . "The old saw that there is nothing new under the sun was dealt a body blow when the Brittany spaniel, Fanche du Cosquerou, won third place handily. This is the first time that such a dog has ever been placed in a field trial for pointing breeds in this country. Despite the fact that the writer is not given to making predictions, he wishes to prophesy that, if this mite continues to run the sort of race in the future that he exhibited here and find birds, he will be among the winners on many occasions in time to come. Asking no quarter and giving none, Fanche went into the lists and matched lances with his bigger brothers and sisters and emerged with victory landed upon his shield. His pace and range are pure poetry for the man afoot, but in no manner does it lack in scope. He went everywhere one could expect him to go in a snappy way. His one find out of the bird field and the one in it were pointed stanchly and handled perfectly. He is a gallant little fellow and has won his spurs beyond the slightest question of a doubt. Owned by L.A. Thebaud, Fanche was handled by H.A. Ammerman." . . .
In 1936, Mr. Thebaud and Louis de la Fleche founded the first organization of Brittany Spaniel owners in the United States. It was called the Brittany Spaniel Club of North America and was officially recognized by the American Kennel Club as the parent club of the breed. Mr. Thebaud served as the first president. The club is now known as The American Brittany Club.

Mr. Thebaud also imported and owned French Ch. Gwennec De L'Argoat (ABC HOF 1965, BFTHOF 1997). He was the strongest influence on the winners of the early Brittany Spaniel trials and sired the first American-bred show champion Jeffrey of Argard (also a field winner) and the 3-time National Specialty winner Ch. Patrice de Sharvogue (HOF).

Mr. Thebaud's enthusiasm for the Brittany Spaniel was transferred to Alan Stuyvesant, who became the chief importer of the breed and a respected breeder both in France and in his American home in Allamuchy, N. J.

And the rest is history . . .

References
The Brittany in America by Fred Z. White
The Complete Brittany Spaniel by Maxwell Riddle
The Book of the American Brittany