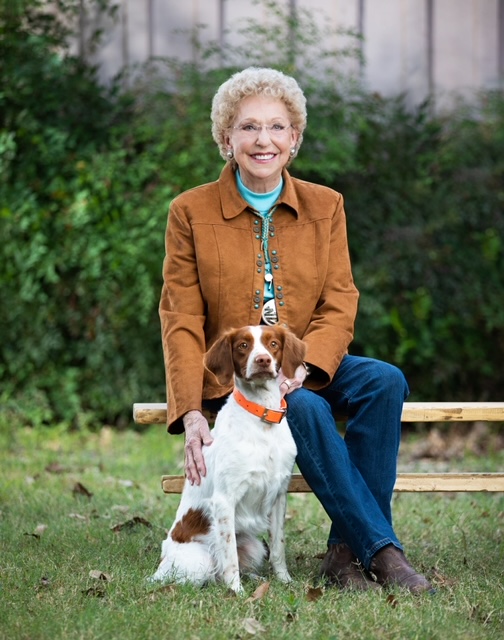 Mary Crawford
Nominated by Rick Smith
            Mary deserves to be in our hall of fame.   She has been dedicated to the Brittany, Brittany clubs and field trialing for almost 40 years and the Brittany Field Trial Hall of Fame and museum for over 15 years.  Mary's efforts and participation whether in competition, breeding or as a Brittany club supporter, have been a credit to the Brittany breed.  Her passion has also been to preserve the history of the Brittany in our museum.  Without the energy, talent and pride that she has for the Brittany Field Trial Hall of Fame, it would not be half of what it is.
            Mary bought a Brittany in 1983 to hunt a covey of quail on the deer lease.   Easter was an orange roan, and knowing nothing about pedigrees at the time, she later discovered HOF Hi Spirit Bazooka's Pistol, HOF Perry's Rustic Prince, DC/AFC Blue Grass Tex and NC Miller's Desert Dust in her pedigree.   She and Jim joined the Texas Coastal Brittany Club that year and began their journey with Brittanys.
            Together they have competed in field trials over a period of 36 years.  They began helping at the Texas Coastal trials in 1984 and 5 years later Easter became a field and show champion.   Over the years, as field trial and show club members became inactive, Mary and Jim became the mainstays in Texas Coastal and today are the longest serving active members.  For almost 25 years, Mary has served as field trial secretary and Show V.P. with Jim as field trial V.P.   She also served as President for several years and is an AKC field trial judge.   She has handled several of their Brittanys in the field, winning with 4 of them.   The majority of the Crawford dogs have been amateur handled and Mary scouted most of the time.  As field trial grounds became scarce, Mary and Jim personally funded leases of small ranches with a group of other trialers.  These ranches allowed Texas Coastal to hold trials for the past 22 years.  
            Mary and Jim have supported championships throughout the years, the Texas Amateur Championship hosted by the West Texas Brittany Club during the early 2000's, winning twice, runner-up twice and the Region 8 "Dub Emde" Championship  hosted by the No. Oklahoma Brittany Club from 2002 -2013, winning four times, runner-up twice.   Mary was the Reporter for this championship for several years.  During this time, they also competed in other Midwest hour stakes and several times in the U.S. Open Brittany Championship in Ardmore, OK, in the Victorie Derby Classic and winning the Texas Derby Classic. 
            Mary served as Field Trial Secretary for the ABC National All Age Championships for three years beginning in 2004.   During that time, she developed the Field Trial Report form, which consolidated into one form the necessary information for ABC, AKC and AFTCA for post-trial results.  This form was approved by the organizations and is in use today as the Field Trial Report form for Brittany clubs.
            Mary and Jim have competed with their dogs at least 20+ times during the past 30 years in the ABC National All Age Championships where on occasion she served as a gallery marshal.  They attended and competed in the ABC National Gun Dog Championship in Michigan for 5 years beginning in 1999.   In recent years, Mary has prepared the list for the ABC Yearbook of all age dogs qualified for the national championship with pedigrees.  She was a member of the National Show Committee for 4 years in early 1990's and currently serves on the Judges' Education Committee beginning in 2008, giving seminars on Brittany field and conformation.  
            J&M Brittanys has been successful at field trialing and breeding for the field as well as conformation since 1986, producing 14 dual champions, 3 field/amateur field champions, 6 AF CH, 9 R-U AF CH and 1 4th place in the 2004 ABC National Amateur All Age Championship.   Five of their  dogs were named Region VII and Oklahoma  Amateur All Age Dogs of the Year for their competition in field trials. They are grateful to Peter Thuman, for his remarkable field training skills, and to Willo Barfield, for her expert show handling.   Several professionals have ably handled their dogs in the field from time to time, Scott Johnson most recently.  Craig Johnson, Joyce Miley and Harlan Gerardy have trialed Brittanys from their breedings.
            After finishing Easter in 1989, they lost their 4 Brittanys and their home in a house fire.   Jim and Ginger Kearns, the owners of a male from Easter's only litter, asked for training advice and handling.  After field and show training, DC/AFC Sir Wimberley Sam finished all three championships within one year and was Runner-Up Champion in the Texas Open Brittany Championship.   Sam was bred 3 times and produced 4 DC/AFC, 1 FC/AFC;   2 of these are RuCH winners and 1 CH.  Four of these winners allowed Mary and Jim to continue in Brittanys.  There have been several other newcomers over the years that Mary and Jim encouraged by loaning horses, referring owners to their field trainer and offering advice and information about the sport.
            After serving on the Brittany Field Trial Hall of Fame Board and Election Committee for 14 years, Mary became the Secretary in 2011 upon the retirement of Bill and Rheta Cartmell.  She is only the second secretary since this hall of fame's inception in 1993.  She assists with nomination preparations, sends nominations to election committee members for voting, advises the Chairman of vote totals, prepares letters to inductees, contracts with the hotel for rooms, and prepares inductee bios for the induction booklet.   In February 2021, she was elected as a Director to the Bird Dog Foundation Board and also serves as Secretary.   As a financial supporter, she is a Member of the Bird Dog Foundation President's Council and is a Gold donor to the Brittany Endowment Fund.
            After the new wing was completed at the museum in 2012, Mary worked with a small group organizing Brittany portraits for display on the walls.  During the next year, after researching, finding and saving photos of hall of fame dogs and people with no portraits in the museum, she framed 57 photos completing the exhibit of hall of famers.   Mary is involved in fundraising for the Brittany Endowment Fund whether it is the plaque project for worthy Brittany people, the auction held during the Friday evening social or the brick project.  After researching, collecting information and photos of the early Brittany importers/field trialers, she prepared books for Mr.Thebaud, Mr. Stuyvesant, the Iron Dog and the Chukar Classic for the museum so visitors can read about the pioneers of our Brittany in America.  So far, she has contributed 7 framed photos with written information about our early importers and dogs along with a framed Tribute to Barbara Rokas for her loan of the Iron Dog and other contributions to our museum. 
            Mary is deserving of election into the BFTHF for her outstanding service to the sport of field trialing and our hall of fame and museum.        
Since 1986  bred and/or owned
DC  Tex's Easter Belle                                                               2xCH  DC/AFC   J&M Lightning's Magnum Max
RuCH  DC/AFC   Sir Wimberley Sam                                       DC/AFC   J&M Bowie's Bluebonnet Joe
DC/AFC   J&M Tex's Hello Dolly                                               RuCH   FC/AFC    J&M Sam's Silver Bullett
DC/AFC   J&M Wimberly Sam's Tuff Enuf,  hr. winner              DC/AFC    DeLamont Bon Ami
RuCH   DC/AFC   J&M Sam's Smokin' Sally                            DC/AFC    J&M Sam's Lone Star Red
CH/2xRuCH   DC/AFC   J&M Ace High Jax,  8 hr wins            FC   J&M All Dug In          
CH   DC/AFC    J&M Blazen Dixie Chik                                    CH/2xRuCH   DC/AFC   J&M Jax Sugar Babe
CH/RuCH   DC/AFC   J&M Pete's Turnin' Trix                        FC   J&M Tuff Enuf Tuck
RuCH   DC/AFC   J&M Clark's Trademark, 4th 2004 ABC Nat'l AAA Ch         2xCH  /FC   Willie Make It
DC   J&M Rodeo Romeo                                                           Ch   Mizlu's Calliope Blues
Ch   J&M Breton Sparks Will Fly, field winner                           4 Show Champions, many other field winners